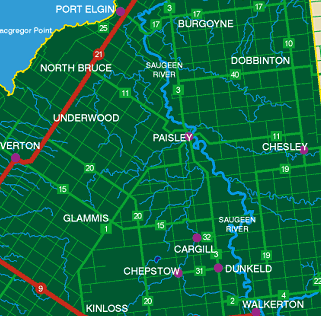 These Cemeteries are located in the south - central part of Bruce County radiating out from the Village of Paisley. As I have time, I will be expanding this collection over the next couple of years. At this time this is currently my own project with all photos taken by me, Judi McNairn, however, any and all submissions are welcome and credit will be given.

Please feel free to use this photos in your research, I have higher quality ones on CD here, should you wish a copy please e-mail me. I will be adding transcriptions as time permits.

A local author, Mary MacKay has written several books about Rusk Cemetery inhabitants and one about Salem Cemetery inhabitants.